Immigration Journal Entry #1 - Sarah Burrow's Experiences in South Texas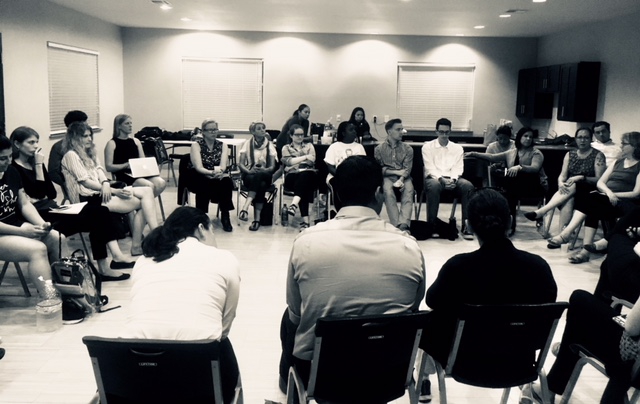 Entry #1

Sarah Burrow, an attorney at Lewis Kappes, and her husband, Brendan, volunteered to help families detained at the border between Texas and Mexico. Under our Constitution, all people within the U.S. have certain basic rights, and our laws permit foreign nationals to petition for permission to stay within our borders. Ivolvement of knowledgeable attorneys can assist both the applicants and our government in their efforts to process these matters efficiently, determining who qualifies for what, if any, immigration benefits.

The following are excerpts from attorney Sarah Burrow's journal regarding her experiences near the border:



We arrive at the South Texas Residential Family Center ("STRFC") at 7:15 am. We each have a laptop and a gallon of water. Security, housed in a trailer at the south end of a gravel parking lot, is a nightmare. Sarah is STRFC Legal Visitor 7, and Brendan is STRFC Legal Visitor 8. We proceed from the security trailer to the visitation trailer, and our day begins.

There are already women and children waiting to see our team. They are dressed in bright solid-colored sweatshirts, jeans, and matching sneakers. A sea of red, orange, yellow, green, blue, purple and pink. They look a bit like crayons. Sarah watches a two-year-old circle a table with a paper clip, as though it is a toy car. He's coughing. They have large green laminated nametags clipped to their shirts. There are infants. Some are napping in their mothers' arms. Some are nursing. Some are crying.

These women and children here have journeyed in treacherous conditions, have spent hours/days in what is referred to as a "hielera" (freezer), and usually several days in what is referred to as a "perrera" (dog cage), before being transported here, to this massive compound in Dilley, Texas. In the "hielera," they are relegated to freezing concrete floors, where the space blankets don't stop their bones from hurting. In the "perrera," they are put in cages, screamed at, kicked awake, and not permitted to carry their children. They are here now, staying in pod-like structures called names like "tortuga verde" (green turtle), "oso café" (brown bear), and "rana amarilla" (yellow spider).

We observe the first intake "charla" (chat). Eleven women and five children gather in a circle to hear for the first time what the CARA Pro Bono Project is, who we are (not government officials!), and the requirements for asylum in the United States. Two little girls eat apples.

We get a tour . . . of the 10 identical consultation rooms, the "peanut butter room" (where the CARA team has communal snacks, and where we are encouraged to take mental health breaks), and the room where the scanners and printers are located.

Sarah's first assignment is to prepare a 30-year-old Honduran woman for her credible fear interview, scheduled for tomorrow. She is Garifuna, a member of fascinating unique ethnic group. She is here with her six-year-old daughter. She has experienced violent assault on account of her race/ethnic group, and is seeking safety here.

The first thing she says to Sarah is, "I will be in here on my birthday this week," to which Sarah responds, "I will be in here on my birthday this week, too," and they both smile.

Brendan's first assignment is to staple intake packets and then research country conditions in Honduras to help bolster a woman's request that a judge review a denial of her credible fear claim.

Sarah's second assignment is to prepare a 26-year-old Salvadoran woman for her credible fear interview, also scheduled for tomorrow. She is a university student with a well-paying job, a house, and a car, who has been subjected to extortion and death threats by the different gangs controlling the area where she lives. She is here with her five-year-old daughter, and when Sarah asks what she thinks/feels about what is happening, she shares, "I have told her we are on vacation."

Brendan helps a group of women complete intake forms, answering questions about where to put certain identifying information. He scans documents into the CARA database. He is asked to review a file in anticipation of accompanying a Honduran woman to her credible fear interview to take notes that will aid our team in prepping others.

Lunchtime! We, along with a fellow volunteer, Jackie, drove off property to the nearest gas station, where we dined for a quick 10 minutes on Subway.

Sarah returns to the detention center and meets with a 20-year-old Honduran woman who received a negative credible fear finding, which means she is facing eminent removal. She wishes to have the Immigration Judge review the determination and, very hopefully, reverse it. Sarah spends two hours taking her very detailed statement about the years of emotional/psychological/sexual abuse and harassment she has suffered at the hands of her children's father.

She fled her home with three little ones after he, in a fit of jealous anger, shot up the house when she and her children were inside.

Brendan helps prepare a 32-year-old Salvadoran woman for her credible fear interview. She and her husband owned a fruit cart, and were given a short amount of time by the B-18 gang to come up with a large amount of money. Her husband urged her and their eight-year-old daughter to flee.

Brendan is pulled out of that prep session to go to the credible fear interview, which lasts just over an hour. He is escorted by CoreCivic security from the visitation trailer to the asylum office trailer about 100 feet away. As they walk, he spots a residential courtyard.

Sarah then moves on to prepare a 27-year-old Honduran woman for her credible fear interview, scheduled for Thursday. She was a political activist during both the 2013 and 2017 presidential elections, and had to leave because she and her only child, a six-year-old daughter, watched as someone tossed a grenade into their home. Her daughter is so talkative, telling Sarah she got shampoo and nail clippers from commissary, and that she can wear ponytails and braids in her hair at this facility.

After uploading his interview notes to the CARA database, Brendan takes a quick coffee break, and circles the consultation rooms to see who else on our team needs an afternoon dose of java. The only thing we are permitted to offer the women and children we're meeting with is tap water in a cone-shaped paper cup. He organizes the "peanut butter room," and files documents, as well, an often-overlooked task.

Sarah finishes the first day by preparing a 30-year-old Honduran woman for her credible fear interview, scheduled for the 4th of July. They talk about how maybe, just maybe, being interviewed on Independence Day will mean she'll be free. She is here with two sons, one who is brain damaged because his father severely beat his mother during her pregnancy. He put a gun to her head and fired it into the air, and she finally left.

She shared that her older son said last night, as they drifted off to sleep inside the walls of the massive detention center, "Mom, we should have escaped him a long time ago."

At 9:00 pm, we debrief with our team at what is referred to as "Big Table." This is a group of volunteers who take this time to support each other as we process what we are witnessing, hearing, and doing.

At 10:30 pm, we head back to the hotel to eat some potato salad before crashing.

--

Sarah has very limited access to the internet while on this trip, but she will be providing journal updates as much as possible in the coming days as she continues to work with families near the border.

Disclaimer: This article is made available for educational purposes only and is not intended as legal advice.